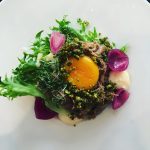 Månadens meny / Monthly menu
Sotad lax, senap, friterad potatis, forellrom, äpple-& gräslöksvinägrett.
Seared salmon, mustard, deep fried potatoes, trout roe, apple-& chives vinaigrette
-0-
Skånskt tuppbröst, rillette på tupplår, sötpotatisfondant, pumpapuré, svamp,
smörad tuppbuljong.
Rooster breast, rillette, sweet potatoes fondant, pumpkin puré, mushroom, buttered rooster broth.
-0-
Honungs semifreddo, vaniljsmulor, salt kolasås, citronkokta körsbär.
Honey Semifreddo, vanilla crisp, salty caramel sauce, lemon boild cherry.
Meny 435:-                           Vinmeny 325:-
Man kan få två sorters ost som en mellanrätt.
You can add two pieces of cheese between main and desert.
75:-
Förrätter / Starters
Löjrom, råraka, rödlök, crème fraiche.
Bleak roe, hashbrown onions, sour cream.
175:-
½ hummer med akvavitsaioli, smörstekt levain & grillad citron.
½ lobster with akvavit aioli, fried levain bread, grilled lemon
185:-
Betor, ricotta, pecorino, confiterad vitlök, rostade hasselnötter.
beetroots, ricotta, pecorino, confit garlic, roasted hazelnuts
  125:-
Sotad lax, senap, friterad potatis, forellrom, äpple-& gräslöksvinägrett.
Seared salmon, mustard, deep fried potatoes, trout roe, apple-& chives vinaigrette.
125:-
Smörstekta Skånska kantareller på Levainbröd med comtémousse
Fried Swedish chantarelles on Levain bread with comté cheese mousse
140:-
Charkuteriplatta, inläggningar, hemmagjorda chips, aioli.
Cold cuts plate, pickles, home made crisps, chili mayonnaise.
145:-
Ostron, Fine de Claire
3st 84:-    6st 149:-
Varmrätter / Main courses
Råbiff på oxfilé, rödbetor, kapris, lök, äggcrème, senap, cornichons.
Steak tartar, beetroots, capers, onion, mustard, egg cream, cornichons.
140:-/225:-
Halstrad råbiff, rödbetor, kapris, lök, senap, pommes frites, rödvinssås, kryddsmör.
Seared steak tartar, beetroots, capers, onion, mustard, French fries, red wine sauce.
160:-/260:-
Halstrad torskrygg, friterad mousseline på havskräfta-& pilgrimsmussla, krondill, smörad kräftbuljong, bönor, äpple, mandelpotatis.
Seared Cod, deep fried langoustine-& scallop mousseline, dill, butterd crayfish broth, beens, apple, boiled potatoes.
295 :-
Grillad oxfilé, pommes frites, tomat- & löksallad, bearnaisesås.
Filet Mignon, French fries, sauce béarnaise, tomato- & onion salad.
295:-
Skånskt tuppbröst, rillette på tupplår, sötpotatisfondant, pumpapuré, svamp,
smörad tuppbuljong.
Rooster breast, rillette, sweet potatoes fondant, pumpkin puré, mushroom, buttered rooster broth.
285:-
Friterad potatiskrokett smaksatt med pistagenötter & parmesan, sauce vierge, blomkålspuré, lökchutney, rostad blomkål.
Deep fried potato croquette with pistachios-& Parmigioano, sauce vierge, cauliflower puré, onion chutney.
220:-
Desserter / Desserts
Honungs semifreddo, vaniljsmulor, salt kolasås, citronkokta körsbär.
Honey Semifreddo, vanilla crisp, salty caramel sauce, lemon boild cherry.
95:-
Crème Brulée.
85:-
Chokladmousse, vanilj-& myntamarinerade päron, choklad, yoghurtmaräng.
Chocolate mousse, vanilla & mint-marinated pears, chocolate, yoghurt meringue
95:-
Äpplesorbet, ingefärsmarinerat äpple, yuzu coulis, nötcrisp.
Apple sorbet, ginger marinated apple, yuzu coulis, nut crisp.
95:-
Chokladpralin
Chocolate truffle.
25:-
3 sorters ost, päron- & pinjenötskompott, knäckebröd.
Assortment of cheese, Pear- & pine nuts, Swedish cracker.
130:-